About us
You can also find us on facebook under: FISH HOEK PHILATELIC SOCIETY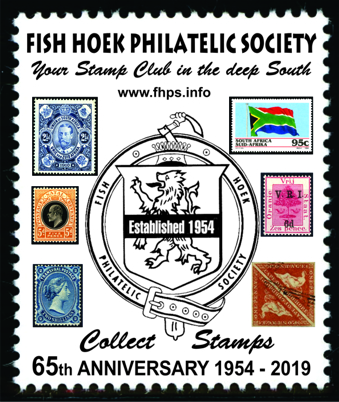 The article below was published by the "SA PHILATELIST"(06/2013):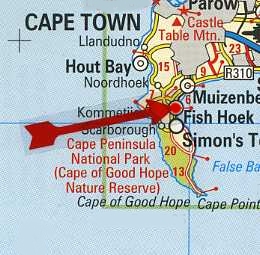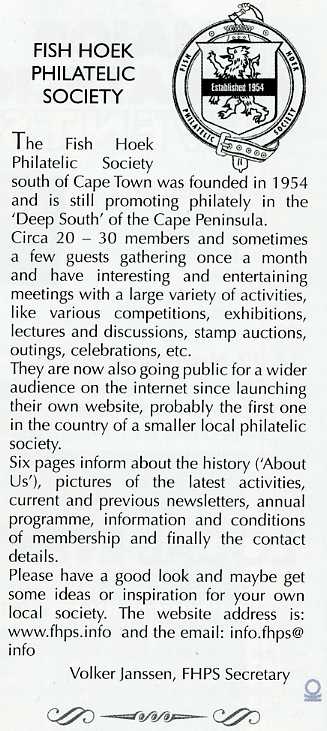 FISH HOEK PHILATELIC SOCIETY HISTORY
(Fish Hoek is a small town in the Western Cape Province in South Africa, ca 30 km south of Cape Town)
The Society was formed at a meeting held on 22 March 1954. The eight founding members at this meeting were: Mrs (Monty)Montgomery and Messrs K. Alexander, Gerry Bouwer, HA Hunter, H James, Mr Morris, EM Sanderson-Smith and W Warriner. Mr Warriner was the first President.
Meetings were at first held on the first Wednesday of each month. Over the years this has changed and currently we meet on the first Tuesday of each month. Early meetings were held at the Green Parrot Tea-room, on the corner of Main and Recreation Roads. The Lanark Hotel and the old library hall, both on Beach Road were also used. The last permanent move was made to the Civic Centre in 1982. Here the library hall was used and currently we are using the Minor Hall.
Membership has steadily increased and we do cater for junior members although there are none at present. Members have brought much honour to the Society by way of National and International awards, medals, cups, citations and being jurymen for exhibitions.
Visitors are always welcome at meetings, which offer a variety of philatelic material to view.
Monthly fun competitions and mini auctions are held at the end of each meeting.
Since its inception, the Society has supported National Stamp Day on the first Saturday in October each year. This usually takes the form of an open meeting where members of the public can view exhibits and scratch through thousands of stamps for sale at a few cents each.
We staged larger exhibitions to commemorate our 25th, 40th, 50th and 60th anniversaries.
Brian Franklin, Former President FHPS
---------------------------------------------------------------------------------------------
Our new Committee for 2022/2023:
President: Johan de Wet
Secretary: Volker Janssen
Vice President: Andrew McLaren
Treasurer: Barry Price
Additional Committee Members:
Caroline Bailey, Sven Tollin and Dave Young